A common SEO tactic is building suburb, city, or state level pages to enhance organic exposure.
Local SEO refers to the practice of optimising a website and its content to improve its visibility and ranking in local search engine results.
It is specifically targeted towards businesses that serve a specific geographic area and want to attract customers from their local community.
We create a service areas page on your website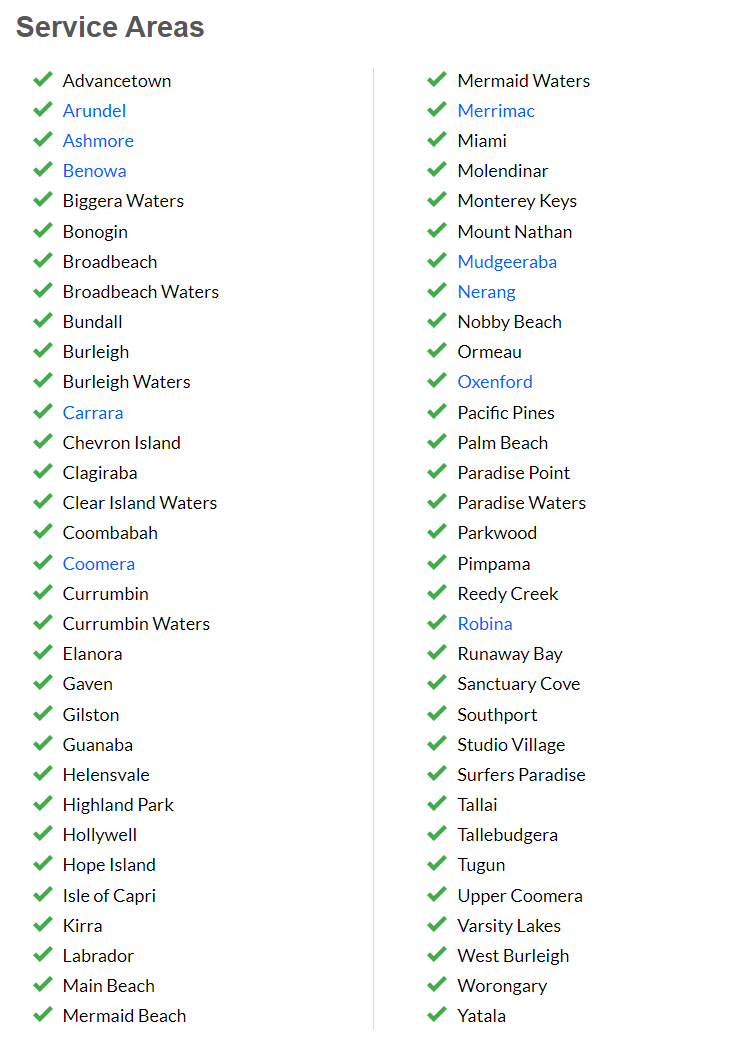 Local SEO Suburb URL Examples
We structure the new URLs appropriately:
/city/location/service/ or
/suburb/service/ or
/service/location/
There are various ways to structure your website URLs, we'll check your industry and competitors to ascertain the best path forward.
Real world examples for when you have more than 1 service per suburb:
/gold-coast/merrimac/gutter-replacement/ or
/sydney/east-lindfield/roof-repair/

If you only want to market 1 service, and you service 1 city, an example could be:
/southport-gutter-replacement/
/merrimac-gutter-replacement/
If you want to market 2 services, and you service 1 city, an example could be:
/southport/gutter-replacement/
/southport/roof-restoration/
/merrimac/gutter-replacement/
/merrimac/roof-restoration/
It depends on your goals for expansion, including your city in your URL structure would future proof your site if you were to expand to multiple cities.
Each suburb will have unique content (no duplicate page content).
You supply us with an overview of your service(s) and your prices for those services. You should include any benefits or unique of your services that we can expand on.
Recommended information to supply us:
Business Type
Business Name
Business Highlights. Specify what makes your business special, e.g. "15 years in business" or "300 5-Star reviews"
The locations your business services (you can select in the calculator on this page)
The number of services you offer, and your choice of:

each service has its own location page, or
group all services per location page
One Service Brief Example:
Service Name: Carpet Cleaning
USP (unique selling point): Orbital Suction
Benefits of the USP: Uses 80% less water for faster drying carpets. Reduces chance of mould growth from overdamp carpets.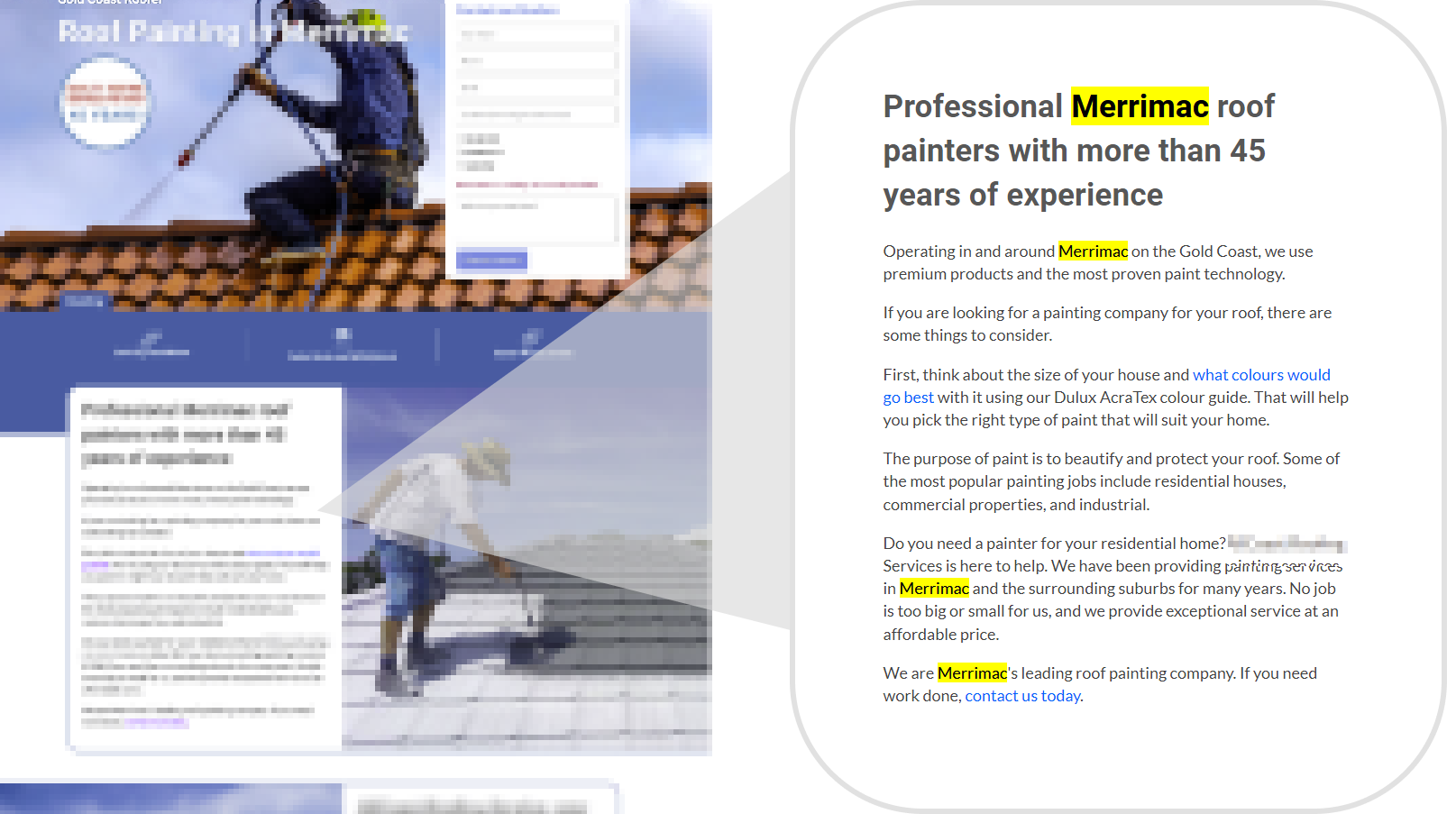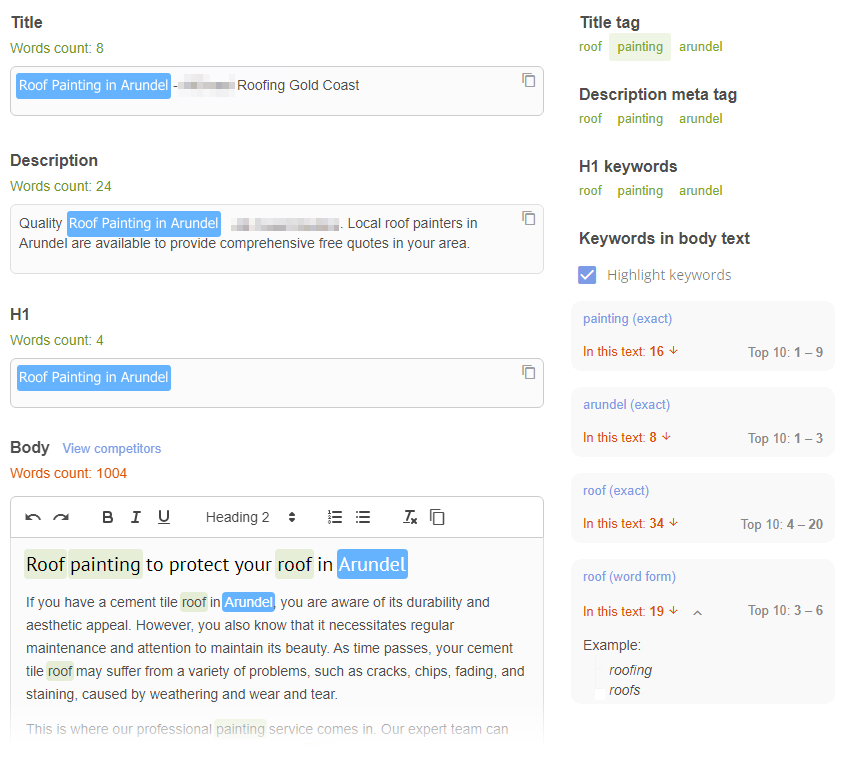 Select your preferred options below to get an accurate quote
Suburbs $200 each plus GST:
Copy and paste the quote into an email (no obligation), include your business name, name and phone number, and ask any questions to clint@futurised.au.
We'll call you back to discuss further.